How to Make $850 per Day as a Camgirl (Beginners Guide)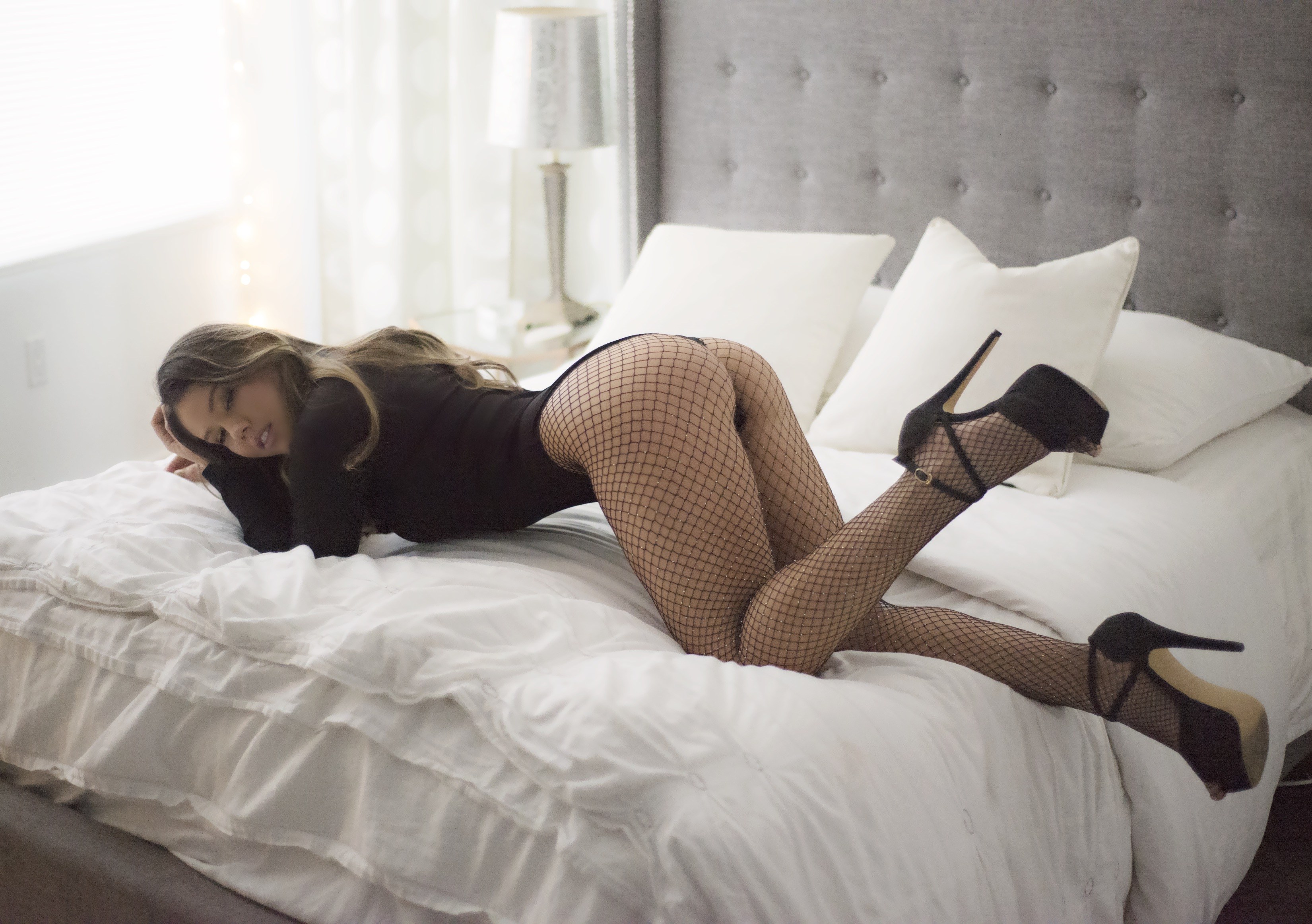 Do you want to make money easily from home? Would you like to work whenever you wish while having fun? Being a cam model could be the career you've been dreaming about! As a cam model you are able to be your own boss, control your own content and make money doing only what you're comfortable with from your very own home. 
I've been in the adult entertainment industry for about 5 years now. Over the last year or so, I've been concentrating on camming. I got into it because I wanted to have a platform that gave my followers and fans the opportunity to see me live and interact with me directly. 
My process of becoming a cam model was a bit untraditional – I didn't learn through trial and error. I learned directly from models who have been in the industry for several years and have successfully gained a consistent, loyal fan base and image.  
If you have no clue about how to make good money as a webcam girl, don't worry – I'm going to explain it all to you! This exciting career is about more than just sitting in front of your cam while you get tips. It's about engaging your audience and getting loyal regular viewers. 
Below, I present the best tips and advice on how to be a cam girl, including the best sites and my fave toys to use during on-camera sex play. I'll tell you how to make money on webcam from the privacy of your bedroom. Let's get started! 
Top cam sites
for camming 
Whether you want to pay rent, have spending money, or just earn a living, camming can be a lucrative opportunity. The first thing you should do is decide what site to get down and dirty on. There are so many cam sites that you can stream on, but the problem is that they aren't all equal. 
So, what should you consider when choosing a cam site? Below are the main deciding questions to ask yourself: 
What's their pay percentage for cam girls?

 
How often do they pay?

 

How much traffic do they have?

 

Does the site offer specialty features?

 
In my extensive experience, I've found that the top 3 sites for cam girls are Myfreecams, Chaturbate and CamSoda. Here is a little about each site:
is the main coming platform that I personally stream on. This site only streams girl models, it's the largest camming company in the world. It's also the most popular, leading at #1. MyFreeCams hosts the AVN Awards every year. The AVNs are famously known as the Oscars of porn, and the awards celebrate everyone in the porn industry. 
MyFreeCams takes 50% of all earnings. Now, this may seem like a lot, but trust me – they treat their girls like gold! They hold several events strictly for MFC models, and they provide models with food, drinks, and live entertainment at every event. Swag bags are a must when attending an event hosted by MyFreeCams. Trust me when I say this site is amazing! 
This site is also a great site to start out on if you're new to being a cam girl. You can see what it's like to stream live and get lots of guys off. You'll get a New Model label, and this means that you'll most likely get more exposure and tips. Members absolutely love to subscribe to new models! Stream for a few hours and see how you like it. It will give you some useful experience, and you can have fun having orgasms while you make some money. 
From the MyFreeCams site

Pros:  
Men are willing to spend a lot of money on this site.

 

There is a bot, 

Charlesbot

 that helps you run your shows. Its free to use and streamlines your users experience. This bot can help with banner creation which when you're just getting started is such a help.

 

Category 

solely

 for new models.

 

Money comes in quickly

 
Cons 
You receive a score that will drop if you're not making money throughout the day. This can mean less traffic. 

 

The site is taking 50% but they do all of the marketing and get you all the traffic so I think 

it's

 fair.

 
Chaturbate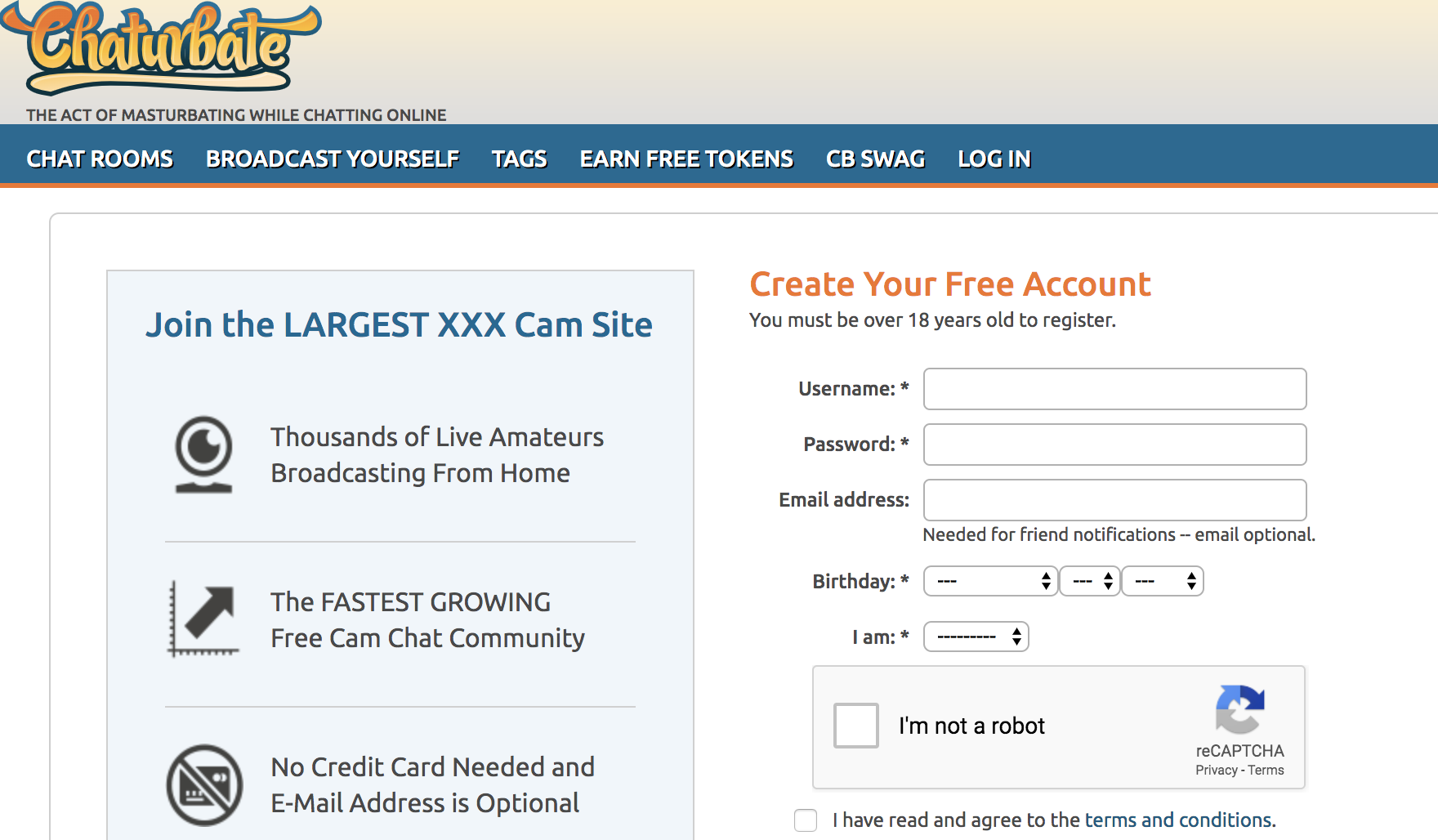 Is a great site for when you're ready to show more nudity and get dirtier. This site has private and public shows, but they are more sexual than what you'll find on MyFreeCams. With the most traffic out of all cam sites, Chaturbate provides the opportunity for cam girls to make a good amount of money live or with images. If you stream twice in the same day, you can easily make your first $100. 
Chaturbate has created a great feature called the Reward Wheel. It's used to add extra sexy fun! Models spin the wheel once they are tipped a target amount. Whatever activity the wheel lands on – getting fully nude, touching your pussy, or inserting a butt plug – you must perform it. Members love this innovative way for them to get off! 
Pros:  
Super easy to navigate and get your site set up. 

 

You get to choose exactly what you want to charge for private shows. 

 

Lots of nerdy guys that will become regulars

 
Cons:  
Like all sites in the industry they will take a large 50%+ cut of your earnings.

 

Chaturbate

 can banned your account for a variety of reasons. You can appeal to get it back but it's still frustrating. 

 
CamSoda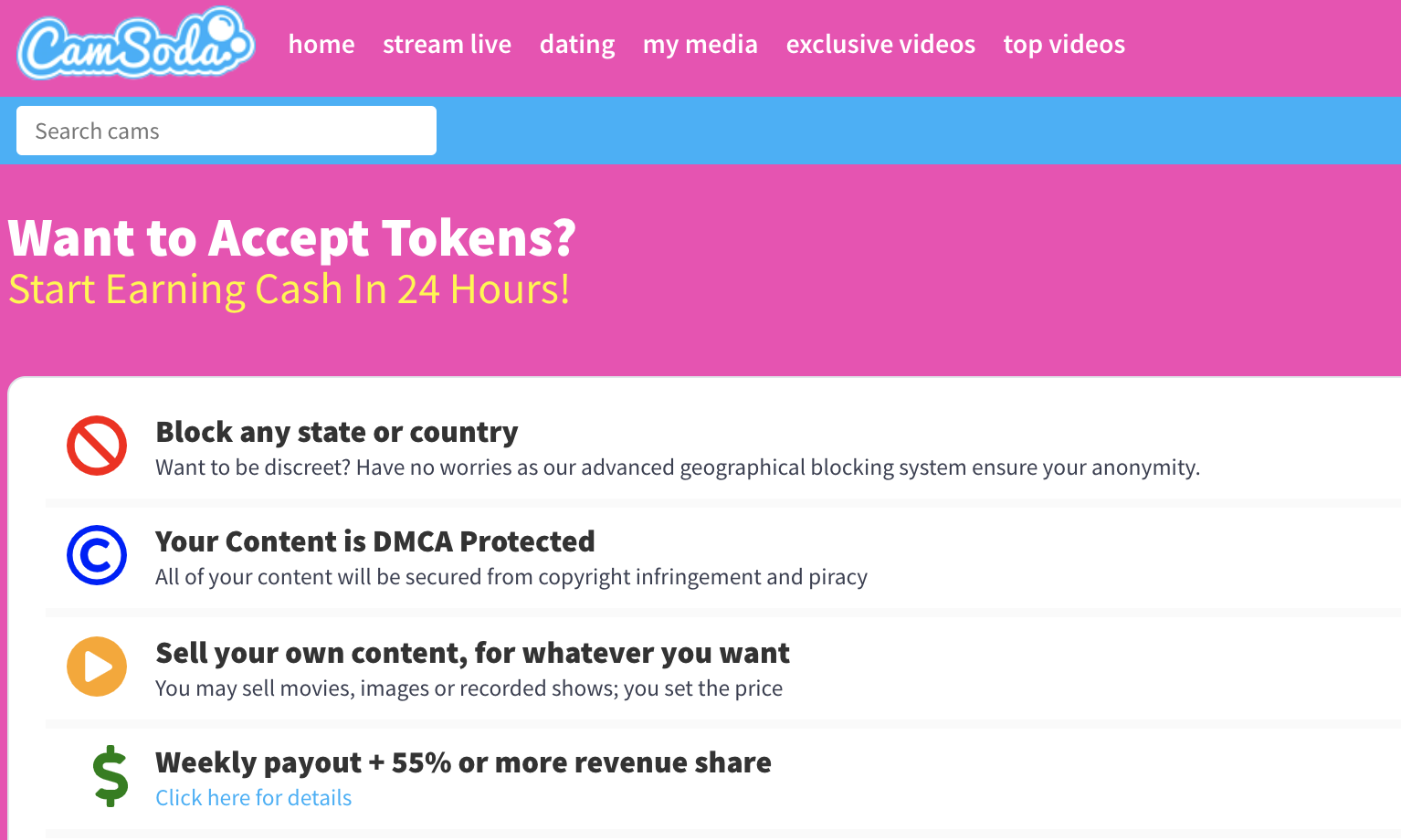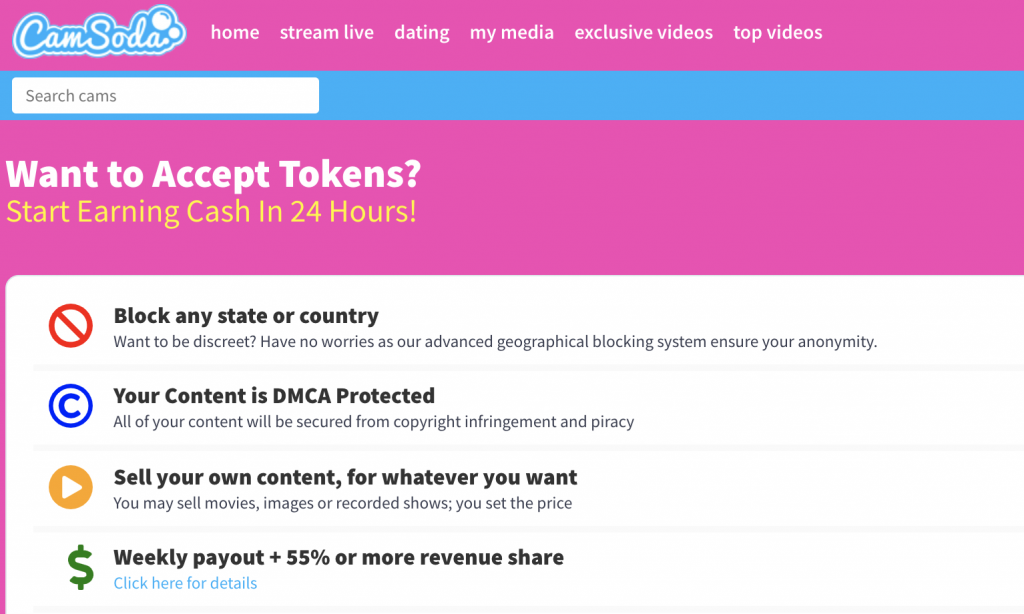 is another high-traffic site for free camgirls that's easy to use and make money on. This site has fewer models, so it's less competitive and easier to be featured on the first page. If you're new in your career or you've performed on other sites with no luck, CamSoda is a good choice. 
The number one thing I love about CamSoda is the feature to be able to state block. Now I don't know about you but when I was first getting started I was scared to death of being recognized by people I knew IRL. These days being recognized is kind of flattering but back then I would have been so nervous. This feature lets you chose the states you want to block! This is perfect for avoiding states where your family might live.   
CamSoda is super easy to use and pretty straight forward. If you're ever looking for a web camming site that has your privacy as a big priorty I would definitely recommend this site. I have heard of girls that did not find luck on Chaturbate seeing some success here but the traffic might be slightly less.  
Pros:  
State blocking so people you know don't stumble across your profile. 

 
Cons:  
Less traffic than 

Chaturbate

 and MyFreeCams. 

 

Might take your profile a while to get approved. I've heard of girls being held up by account reviews for a while. 

 
Pros and cons of working as a camgirl
There many benefits to being a webcam model. Besides getting to be your own boss the benefits are tremendous. I've rounded up a few of the main reasons why I became a cam model and some reasons this might be perfect for you too. Here are just a few: 
Pros of being a cam girl:
You can work from home
Working from home is a huge benefit! This is especially true if you live in a larger city like me and a work commute can add several hours to your day. Working from home lets you pick up another side gig if you want or just lounge around in your cute panties all day.  
You choose your own schedule
At other jobs, you are required to clock in and out at the times that you're scheduled. If you don't show up, you'll probably get fired. With my current career, I can work whenever I want, day or night. This flexibility has been such a blessing for me! If you're not feeling well or a friend's wedding comes up no problem. Take off and enjoy. 
It's all online
This means there is little to no overhead or inventory required. This is also great because it creates a safety barrier between cam babes and their audience while still providing high-quality performance and images. No one needs to know where you live. You just need wifi and your laptop and you are good to go! 
You can work from anywhere
Traveling is something I love doing even when it is for work! I can bring my laptop anywhere around the world if I have access to an internet connection. This also allows me to fly to other webcam models to collaborate and enjoy different areas I've never seen before while doing what I love! Porn in Paris? Don't mind if I do. 
Cons of being a cam girl
In my opinion, there aren't many cons to webcam modeling. However, I'd like to mention a few just to give a different perspective. Also, I can hopefully help you come up with solutions to any problems related to the community for webcam girls. We're in this together and I wish I had this help when I was getting started. 
Working from home can get lonely 
This may seem contradictory but it's very important to be aware that working from home means you are not surrounded in an environment with other people every day. In extreme cases, spending too much time behind the screen and on social media can lead to isolation, and social anxiety. 
Humans are very social beings, and it's important that we interact with others on a regular basis. I recommend giving yourself at least 2 hours a day to partake in social activities such as yoga classes, dinner with friends, or attending an event such as a movie or going to a flea market.  
 Others may judge you for your career choice
 This can be damaging to any cam model looking to expand on something that some family and friends find inappropriate or unacceptable. It's important to realize that what other people believe may not line up with your beliefs. I recommend being open with what you do while still protecting your identity and image. 
I recommend having someone in your life you share this part of your life with. This can be a friend or family member that is open minded. You shouldn't feel bad about your work. Find someone that celebrates your work to be your support system. You'd be surprised how many people would do it but just don't know how to get started. Feel free to pass this guide along to them. 
What type of content to 
create?
Top content varies between platform as well as the performance of the model. I specifically focus on solo amateur content using my phone. My content includes dance teases, shower scenes, toy shows, and anal play.  
Sometimes I even enjoy just talking to my fans about my daily life. I really enjoy interacting with my fans and learning about them as well as receiving feedback about requests and suggestions they may have for future content.  
Solo
One thing that I love about webcamming that you make the rules! When I was first getting started, I was not comfortable doing scenes with men. If that's your situations that's totally fine. You can make a ton of money doing scenes all by yourself. 
Toys
I love using toys in my shows. For one it feels good but for two it gives you something to tease throughout your performance. Use whatever toys you're comfortable with and makes you feel good. Confidence comes from being in your element. Give your toys a test drive before you try them on your shows. You won't regret it.  
Shows with other
If you have a partner or a friend that wants to join you and you're okay with it go for it. I find girl on girl shows earn me more money. One thing worth noting is that the other people in your shows will need their own accounts as well. Camsites do not allow you do have shows with unregistered models and will ban you.  
Fetish
There are so many interesting fetishes you can cater to. When you cam for a specific niche you might find that members are willing to pay more and be more loyal. If there is a specific fetish you enjoy as well more power to you. Find your niche and make a name for yourself.  
How much you'll make as a cam girl
Performing in front of your webcam is like any other job in the sense that you may not get rich right away, but you can certainly make a bit of money if you follow my tips. The more you learn about how to cam correctly, the more money you'll make. You can sit for hours in from of the computer and make no money. 
Luckily, you don't have to invest a lot. If you've got a microphone, laptop, and webcam, you're golden. (I'll talk more about this later.) 
On average, girls that are starting out make anywhere from $2,500 to $5,000 per month. More experienced cam girls like myself make anywhere from $8,500 to $15,000 per month. Of course, your salary depends on how many hours you're on camera, how comfortable you are, how much you work your audience and other things.  
It's important to understand that your wages will fluctuate. Unlike other jobs that pay a set amount on an hourly basis, camming can fluctuate depending on how many people tip you at a given time. In the very beginning of my career, some days I made $500 in 2 hours. Other days, I would make $20 in 2 hours. Don't let this deter you. Some days are just slower than other days, just like working as a server in a restaurant. 
I recommend keeping a log of what times you cam and for how long, and directly correlate that to your profits. Once you get a marketing strategy and a schedule in place, being a camgirl can be a very stable and lucrative career, especially in those cold months like November! 
The longer you cam the more loyal guests you'll aquire as well. I have some fans that have been with me since the beginning. I love forming sweet relationships with my guests. 
The best toys to use
Sex toys are an essential accessory for every cam girl. They give you a lot of options while you're performing, and guys love to watch you use them on yourself. Anal plugs are a must (unless you don't like anal) I absolutely love anal plugs because I can still play with other toys with both of my hands. 
I have a wide range of toys that I've acquired throughout my adult career, but nothing has satisfied me the way that the Crescendo does! Crescendo is a bendable smart vibrator, and it's #1 on my list of favorites! It has 6 powerful motors, 12 preset vibrations and 16 intensities that can shape to your specific "vibe" every time you use it! It's also unisex and can be used between couples, not just a girl. 
This vibrator not only bends like a fucking contortionist, but it is also waterproof, Bluetooth adaptive, and wirelessly charges with this futuristic induction circle that looks like it belongs in some highly advanced tech facility. As I've stated previously, the Crescendo has six separate motors throughout its shaft and there's an app that allows you to program each motor individually and control it straight from your phone. 
I usually recommend the Crescendo.  It's not the expensive site at $140, but it's well worth the money. Having quality shows is one of those things that are essential to the cam world if you are serious about getting into it. It's like a carpenter buying a good hammer that will last.   
The Lush and the Lush 2 by Lovense are also top on my sex toy list! These orgasm-inducing toys are remote-controlled via iPhone or Android. Lush is very popular among the camming community for its ability to give fans full control of the vibrations. Fans love being able to interact with you in this way. 
My top tips for being a top cam model
It's not easy to get the attention of horny men when you're in a pool of hundreds of other free cam girls. So, how can you stand out as a camgirl? I've got some tips below to help them notice your image, blow their load, and keep cumming back to you: 
 

Be creative

 You are an entertainer, and your room is your stage. When you utilize your stage and keep things spicy, you can grow your audience. Remember, your clients are looking for a break from their frigid sex lives. They're looking for a hot, uninhibited sex goddess who loves to try new things and keep her man satisfied. If you must go outside of your usual performances, it can grow your audience. 
Be confident
 It may be difficult to be confident when you're performing in front of the camera, particularly at first. However, you'll find that you'll begin to gain fans and admirers, which is a major boost of confidence. After a little time and experience, your insecurities will melt away and you'll feel sexy as hell. 
Stay in character
When you're streaming, you're a fantasy girl. Stay in your character and refrain from texting on social media, blaring the TV in the background, and yelling at your roommate. 
Be professional
Your job in the camgirl business involves getting naked and having multiple orgasms. But you are running a business. As such, you need have a professional image. Be true to your word and clear about the services you offer. 
You don't need the perfect setup or expensive lingerie
 I did so much research trying to find the "perfect" setup before being in front of the camera for the first time live or for a photo! I realized later that this was not the most important priority. It's not necessary to get the fanciest ring lights or the most expensive webcam. You also don't need to go blow thousands of dollars at Victoria's Secret in order to succeed as a webcam model.  
Take time for yourself
When I'm not mentally prepared to go on camera, I don't. Your emotions show through the camera. People want to see you when you're vivacious, confident, and irresistibly sexual. If you feel the need to focus on other priorities in your life, do that. Take a break from being in front of an audience if you can. This way, you can come back refreshed and ready to go. November is an ideal time to take some time off for the holidays. 
Most importantly, have fun.
Camming should be fun and something you can always look forward to. Bring your smile, personality, and sex appeal, and you'll be set! 
Making money on adult sites is about engaging viewers and connecting with them. The deeper your connections, the bigger your payouts. Adult content is changing, and for the better. Instead of photos and scripted porn videos, horny people want to see more amateur and authentic content. Therefore, these camgirl sites are becoming increasingly popular. 
These days, it's easier than ever to launch a successful cam girl career! I hope this guide helps you as you begin your journey into the camming world. Good luck!